Keeping the kids entertained is at the forefront of everyone's minds currently and crafting is a brilliant way to do that.
Getting crafty with your kids is a fantastic way to spend bonding time together and many craft activities have hidden cognitive benefits; it can help provide an outlet for their emotions as well as helping with their fine motor and dexterity skills. The list of positives for crafting with children is endless.
But what if you're not crafty yourself?
Well, fear not! In this article, we're going to give you a few ideas you can do with your kids that don't entail buying any fancy gear and can be done on the kitchen table. Of course, if you're a bit of a crafter already and have a bespoke craft table, then even better!
So here are 19 super simple, fun, and creative crafty ideas.
1. Leaf Collage
This is a super simple make, which has the bonus of encouraging kids to get outside exploring in nature too!
What you'll need:
Paper
Glue
Leaves
Coloring Pencils
Get the kids outside exploring the garden and ask them to collect some leaves. (Fallen, slightly dried out leaves work best for this). Encourage them to try and get as many different shapes and colors as they can.
When they are done it's time to start creating! Use the leaves to make as many different animal pictures as they can think of; maybe the leaves can become part of a lion's mane? Or a squirrel's tail? If they're feeling really adventurous, get them to create a self-portrait using only the leaves they have collected!
2. Homemade Playdoh
This is a great, classic kids craft that will keep them entertained for hours. Lots of people buy ready-made playdoh from the shop, but it's far cheaper to make your own, and when it's this simple there really is no excuse!
What you'll need:
2 cups of water
2 cups of flour
1 cup of salt
2 tbsp cream of tartar
2tbsp cooking oil
Food coloring (optional)
Place all the ingredients into a pan and heat slowly until the mixture thickens and comes away from the side of the pan. Leave to cool before using. Even better, when stored in an airtight container this playdoh can last for ages and be used time and again.
3. Sock Puppets
Puppets are always a favorite and are brilliant for encouraging imaginative play! Make a whole cast of puppets and create a show for the whole family to get involved with! There are loads of different types of puppets, and they are all relatively simple to make, but my favorite type of puppet is the sock puppet!
You will need:
A sock
Strong glue (suitable for fabric)
Scissors
Googly eyes
Bits of felt or foam or any other old material
Any additional bits for decoration
Once you've gathered all your bits together, actually making the puppets is the easiest bit! Simply decide on your character and stick your eyes, ears, and everything else to the sock. Make sure the glue is strong enough and has properly dried, otherwise all the bits will fall off when you try to use them!
4. Monster Truck Painting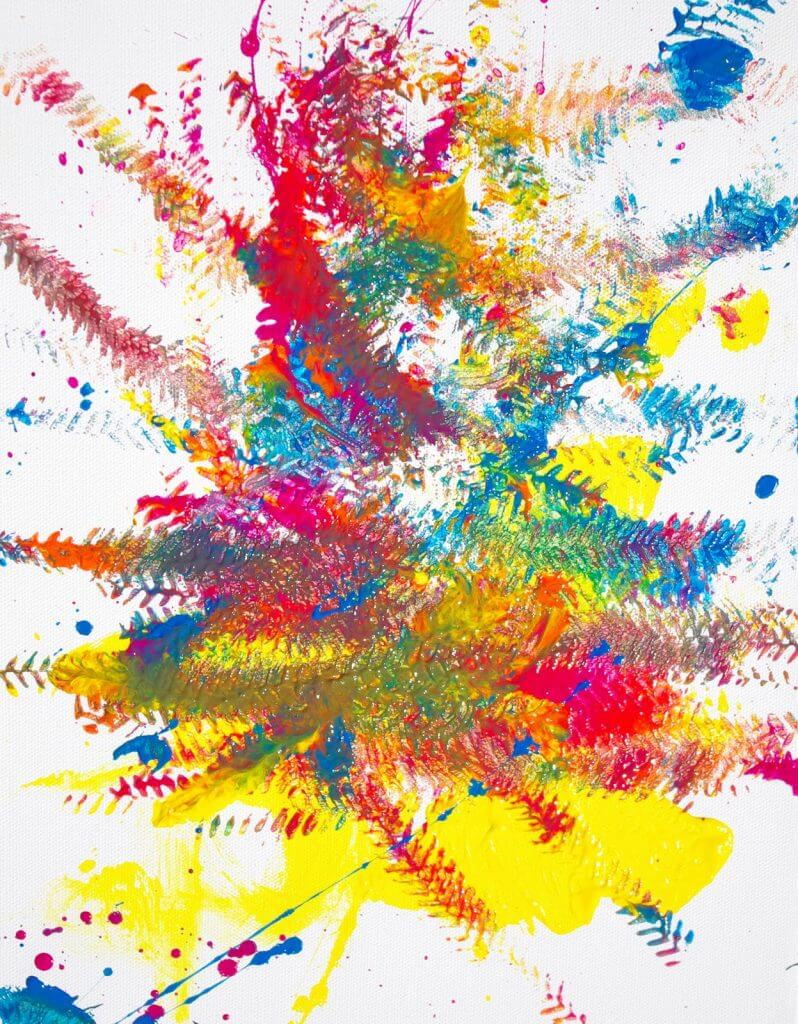 This craft can be a bit messy, but that is all part of the fun…right?!
You will need:
– Paper
– Paint
– Toy cars/ trucks
In my experience, kids love nothing more than getting creative and making a mess, and that is exactly what they get to do with this next craft. Just make sure you've put plenty of paper down to protect your table or if it's a nice day let them paint outside. They'll have loads of fun creating their own patterns and making art. Just make sure you send the cars to the car wash afterward!
5. Toilet Roll Rockets
This craft is a great way to get kids interested in learning about the solar system and it's not just for boys!
You will need:
Toilet roll
Card
Paint
Scissors
Glue
Tissue paper
Silver foil
Firstly, you'll need to paint the toilet roll, then cut your card into a circle and wrap it around until it makes a cone shape. Glue this to the body of your spaceship.
Cut 3 small circles in your foil and stick them onto your ship to create your rocket windows. Then cut 2 small triangles out of your card and cut 2 slits at the bottom of your roll to attach them to your rocket. Add the tissue paper streamers and any other decorations and you'll be ready for lift-off.
6. Paper Plate Turtle
I love creating anything to do with animals and this craft is fantastic for being able to create a whole zoo.
You will need:
Paper plate
Tissue paper (cut into squares)
Glue
Scissors
Googly eyes
Green coloring pencils/ paints
Black marker
Double-sided tape
Turn your paper plate upside-down and cover it with a layer of glue. Take some of your tissue paper squares and spread them over your plate.
Then draw and cut out your turtle's head, legs, and tail. Color them in green and attach them to your plate using double-sided tape. Stick down your googly eyes and draw on a nose and mouth.
A turtle isn't the only animal you can make using paper plates, you could try making snails, lions, jellyfish, or even a unicorn!
7. Ladybird Rocks
This is another craft great for getting the kids out in the garden and collecting things they'll need.
You will need:
Rock
Paint
Googly eyes
Glue dots
Firstly, paint your rock red. Once dry, decide which part of the rock will be the head and paint it black. Add the spots and a line down the middle. Add glue dots to the head and attach the googly eyes.
Instead of painting your ladybird red, you could opt for a different color, how about a blue or purple ladybird? Or even make a whole menagerie of different bugs by making rock bees or spiders!
8. Fire Breathing Dragon
This craft is great fun for all the family!
You will need:
Toilet paper roll
Paint
Googly eyes
2 small pompoms
2 medium pompoms
Glue dots
Glue stick
Tissue paper in red, yellow and orange.
First, paint your toilet roll and then attach your two small pompoms as his nose and two medium pompoms as his eyes, using the glue dots. Attach your googly eyes onto your medium pompoms and you're almost there.
Cut your tissue paper into strips and stick them into the mouth of the dragon (avoid sticking them to the bottom of the mouth, they don't work as well!). Then take a deep breath, place your mouth on the end, blow and watch those flames dance!
9. Paper Plate Masks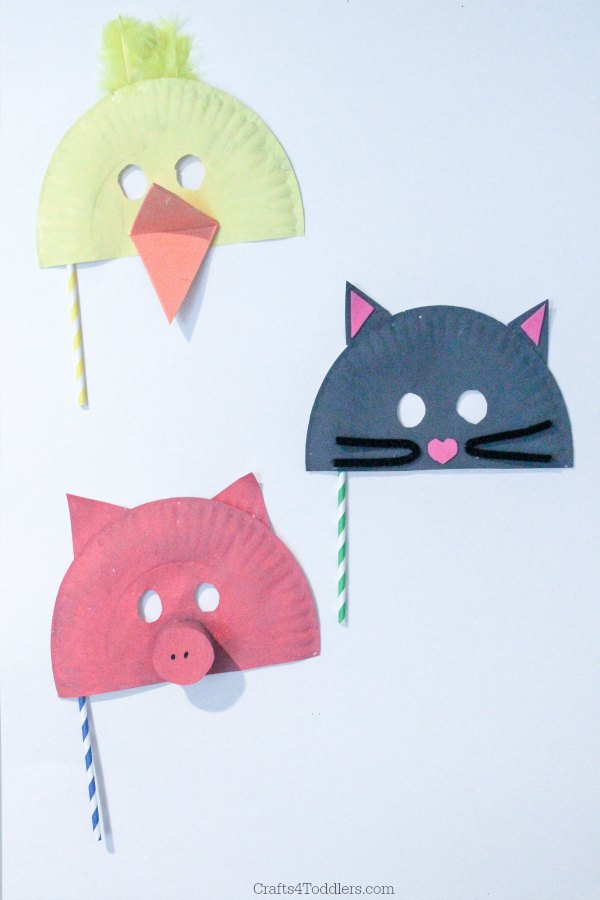 An easy way to keep kids entertained is to get them to dress up and role-play as a character. But what do you do if you don't have any costumes handy? Make a mask of course! The bonus with this craft is that the kids can choose exactly which character they want to make, it really stretches their imaginations.
You will need:
Paper plate
Card
Glue
Scissors
Colors/ paints
Straw (or something to use as a stick)
Anything else to help decorate your masks
Decide what animal/ character you want to make. Cut the plate in two, it'll need to be a little bit more than half. Mark where you'll need the eyes and cut them out. Paint your mask and cut out and add any ears, noses, or other decorations. Glue the straw to the back of your mask to form a handle. Have fun creating your character!
10. Egg Carton Caterpillar
A great way to make use of all those spare egg cartons, and amazingly easy to make!
You will need:
Egg carton
Paint
Googly eyes
Black marker
Pipe cleaners
Cut your egg carton lengthways and paint it whatever color you desire. Add the googly eyes and draw on a little nose and smile with the marker. Cut a pipe cleaner in half and poke 2 holes into the head and thread through 1 half of the pipe cleaner into each hole as an antenna. Add any other decorations as desired. What other animals can you make using just egg cartons, paint, and pipe cleaners?
11. Tin Can Windsocks
This is a great craft for keeping kids entertained. They'll love hanging their handiwork out in the garden and watching it blow and the ribbons dance in the wind.
You will need:
Recycled tin can
Paints (acrylics work best)
Ribbons
Tacky glue
Masking tape/ duct tape
Optional embellishments
Firstly, make sure your cans are safe to work with by lining around the edges with a couple of layers of your tape, this will help prevent any injuries from sharp edges!
Paint your can in the colors of your choice. As soon as your paint is dry add your ribbons to the bottom of the can using your glue (you could even add a ribbon to the top of your can for hanging). Add any other decorations, and there you have it; your very own tin can windsock!
12. Bumblebee Windsocks
Keeping along our windsock theme here is another fun craft, with the added benefit of being great for learning about a variety of insects.
You will need:
Toilet paper roll
Tissue paper
Scissors
Glue
Googly eyes
Pipe cleaners
Markers
Tape
Start by painting your toilet roll yellow and adding the black stripes. Then cut out some wings and attach them. Cut the pipe cleaner in half and tape them to the top of your toilet roll as some antenna. Glue your googly eyes and draw a friendly face. Cut out some strips of tissue paper and glue to the bottom of your windsock. Add a handle using some ribbon, hang your friendly bee windsock somewhere, and get started on making another one. What about a butterfly this time?
13. Pasta Necklace
Everyone loves jewelry and these pasta necklaces are no exception. They can be made to accessorize any outfit!
You will need:
Uncooked pasta (hollow)
Food coloring
Vinegar
Plastic container with lids
Cooling rack
Length of yarn
It's really simple to dye your pasta, simply place the pasta into your food container and add in a mixture of vinegar (1 tbsp) and food coloring (several drops). Then shake your container. Pour the pasta out in a single layer onto your cooling rack to dry. Once dry, you can start threading; firstly tie a piece of pasta onto the end of your yarn to prevent the pasta falling off, create your necklace, and once you're happy with it untie the pasta and retie the ends back together. Super simple and very pretty!
14. Easy Windchimes
Windchimes are always a great favorite and look fantastic hanging out in the garden or up in a window.
You will need:
Plastic cup
String or ribbon
Beads
Scissors
Turn your cup upside-down, then use your scissors to create 4 evenly spaced holes in the bottom of the cup. Next, slide a length of string through each of the holes and knot them. Then let them get creative threading the beads onto each strand. Knot the end of each strand as they finish. In order to hang, poke another hole into the top of your cup and attach more string. What makes this version of a windchime great is that it's mainly silent, so if you're not a fan of noisy decorations, this is perfect!
15. Dreamcatchers
I used to love dream catchers (in fact I still own one or two), they're extremely pretty and surprisingly simple to make.
You will need:
Paper plates
Felt markers
String or wool
Glue
Feathers and other embellishments
Cut a hole in the center of your paper plate and decorate it. Poke holes around the edge of your plate and thread the string. Attach the string to the bottom of the plate. Then decorate away, attaching feathers, beads, and jewels to make them unique!
16. Fingerprint Trees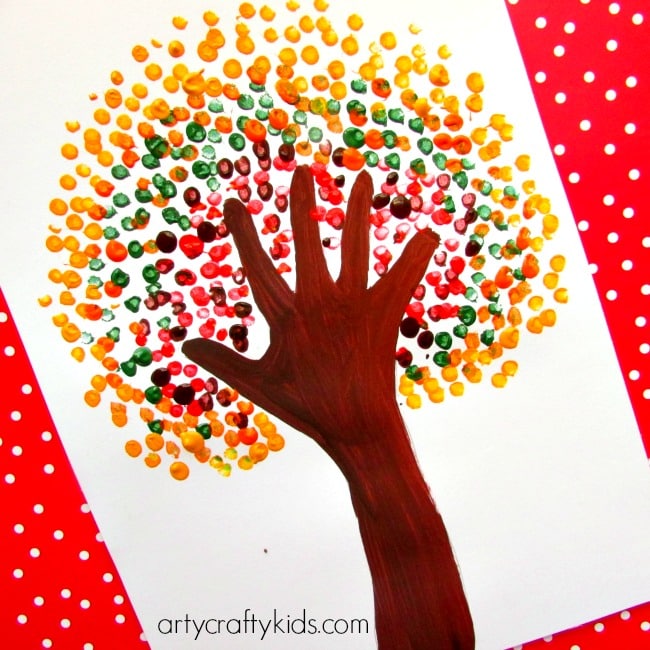 A slightly messy craft that's probably best done outdoors! Finger painting has always been a favorite.
You will need:
This is a super simple craft. First, draw around the hand and arm to make the 'trunk' and 'branches' of your tree. Paint brown. Then it's time to get messy! Using fingers add on lots of leaves and other details to your pictures.
17. Tissue Paper Streamer Rainbows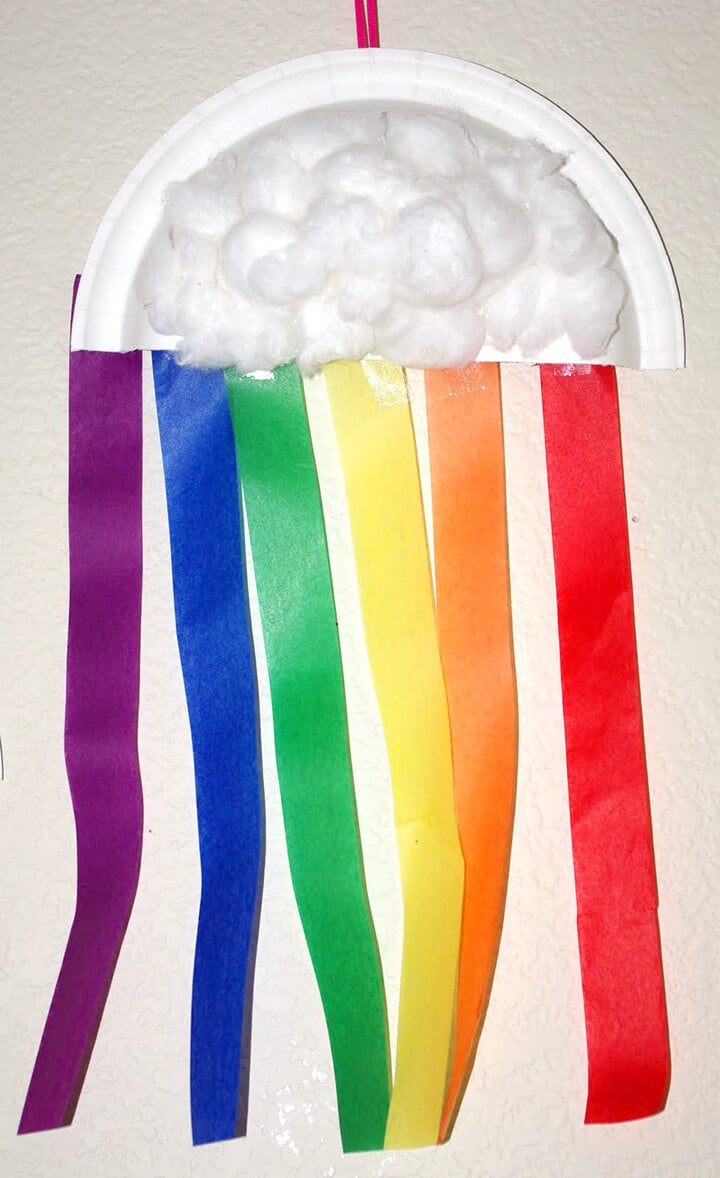 At the moment we're all loving rainbow crafts and these easy to make paper streamer rainbows will look great hanging in your window.
You will need:
Paper plates
Cotton wool balls
Colored tissue paper/ ribbon
Glue
Start by cutting your paper plate in half, then cut your tissue paper or ribbon into strips and attach them to the back of the plate. On the other side glue on your cotton wool balls to create a fluffy cloud. Super simple and super cute!
18. Stained Glass Window
We all love looking at stained glass windows and admiring their colors, so why not make your own?
You will need:
Tissue paper (cut into squares)
Contact paper
Black construction paper
Scissors
To make your frame cut out the middle of your construction paper and stick it onto a large piece of contact paper. Then set the kids loose adding their tissue paper in whatever design they like. When they are finished simply stick onto the window and enjoy!
19. Pipe Cleaner Snakes
This craft is brilliant for improving fine motor and dexterity in young children. Plus, they make great little bag charms and bookmarks.
You will need:
Beads
Pipe cleaners
Glue
Googly eyes
Red felt
Scissors
Start off by making the head of your snake; take your pipe cleaner and bend it over to form an oval shape without any spaces. Then start adding your beads, try to make a pattern or go completely random. It's up to you! Once your beads are added, give your snake a face. Cut out a little tongue from the felt and add your googly eyes and you're all done! The pipe cleaner means you'll be able to bend your snake into any position you'd like.
Summary
Enjoying crafting with your kids doesn't have to be a scary prospect, it's a great opportunity to spend some quality time with them and that's the main thing they'll enjoy.
I hope the crafts above have given you plenty of ideas to use in your own kids' crafting.
Have fun!